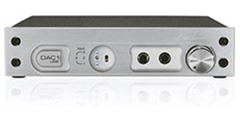 The Benchmark DAC1 is not a streamer; it is a digital to analogue converter – a DAC. All digital sources have a DAC. Some of those mentioned in this blog have Burr-Brown converters or other high-end DACs. But if that is not enough and you really crave a clear signal path from your digital media to your amplifier, you want a DAC that is built with a bit more love and caring. The Benchmark DAC1 is one such external DAC.
Some 5 years ago Benchmark Media Systems made [more of] a name for themselves by releasing the DAC1 with a list price of less than $1,000. It boasted a 24 bit / 96KHz resolution, balanced outputs and generally rave reviews for perfect sound. Half a year ago they went on to release this new model in a line of successors, which as the name implies, offers a USB input port [supporting 24 bit / 96KHz] in addition to the SPDIF and Toslink ports [supporting 24 bit / 192KHz] already there. With the added USB port the DAC1 can now serve as a sound board for your computer as well as replace the built-in DAC in your media streamer; provided, of course, that your streamer has a digital output.
At a little over $1,200 the DAC1 USB is still an affordable option like its predecessor was before, even if it is a lot of money.


Benchmark