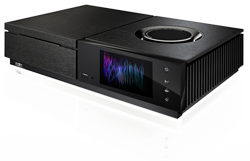 When Naim released the Mu-So product line, they had the audiophiles pretty much convinced that multi-room audio could be done the autonomous-speaker-way hitherto personified by Sonos, without the transistor-radio-sonority personified by not only Sonos but their competitors as well, was actually feasible. Now they have brought some of the design decisions from Mu-So over to the Uniti line of products and, by the looks of it, become a serious contestant of the Linn throne. Even the Mu-So button has spawned.
The new Uniti comes in four flavors. The Atom, Star and Nova on the front end of things and the Core at the back. The Atom, Star and Nova are streamers with rudimentary external storage options with a capacity of 20,000 tracks and a 40W, 70W and 80W amplifier respectively. The Star and the Core have built-in CD transport and accompanying ripping facilities. The Core has an internal storage of up to 8TB and room for 100,000 tracks. Whether more Uniti Core units can be addressed simultaneously remains unknown at this point. After all, 100,000 tracks is only 5-6000 CDs.
The new Uniti devices are compatible with the the existing Uniti range.

Naim - Uniti