This time Linksys (by Cisco) has gone completely overboard in a Sonos-aspiring devices galore outfit leaving absolutely almost nothing left to want.
Like Sonos the Linksys WHA series consists of a receiver that connects to an existing sound system, a receiver with a built-in 50W amplifier and a super delicious touch screen remote. Additionally the WHA offers a more traditional remote, an iPod dock, wireless speakers for the WHA amplifier and a soon to arrive all-in-one device with a built-in CD drive.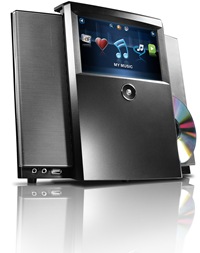 There are a few open questions, such as does it support flac and does the CD equipped station rip as well as play? If those two questions can be answered positively, I am sure Sonos will find themselves with a nice competitor here. Of course, the design is still a plus for Sonos which is definitely not the case for the Linksys. Nevertheless, this is an unusually complete package to introduce this suddenly.


Linksys