In an earlier article, I had a quick run through of 4 media player applications. Apple iTunes, Foobar2000, WinAmp and J. River Media Center. This time I will go another set of players; a triplet that are not that much unlike the previous batch – at least not on the surface.
This week's selection are: Microsoft Zune, Clementine and Logitech SqueezePlay.
Microsoft Zune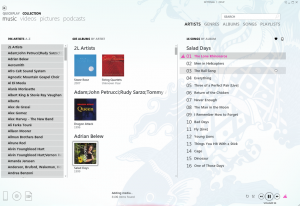 Microsoft Zune is not only a portable MP3 player. It is also the name of a piece of companion software specifically made for said player. It is, however, a quite capable software player in it's own right.
Installing it can be a bit of a challenge. If the version downloadable from the official home page will not install, try and download the complete package from Microsoft's download center – download.microsoft.com. It is quite large but less prone to installation hick-ups. Unlike most of its cousins, Zune comes in both 32 bit and 64 bit versions, letting you take advantage of those RAM blocks above 4GB on your 64 bit Windows. Not sure that it makes much difference with this particular piece of software, though, but there you are.
Zune sports a minimalistic and classy user interface. Everything scrolls smoothly and has a high-key prettiness not often seen. Surely not your average Microsoft application look. On the UX side of things, this is not always a good thing – in fact, Zune is exactly as unintuitive as the majority of media players out there. Barebones and adequate. Not much more to say about this one, except for one thing: It doesn't support Flac.
3 out of 5 for slick operation but few supported formats and no multi room.


Zune
Clementine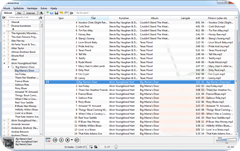 Amarok is a renowned media player for Linux and the antecessor of Clementine. It cannot deny its roots but at the same time it is curiously sleek and sports a fluent navigation many players could learn from. If you want a snappy interface that reacts promptly to your every command and a UI with no bells or whistles whatsoever, this one is for you. Add to that a thriving community and a promising future is ahead. It doesn't do much in terms of remote control or multi room playing – but when it comes down to it, not many do. Needless to say, Clementine plays both Flac and Ogg Vorbis.
3 out of 5 for uncomplicated and slick operation but no multi room.


Clementine
Logitech SqueezePlay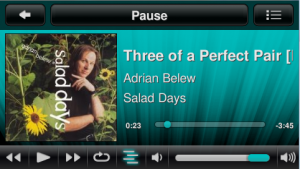 SqueezePlay is a PC version of Logitech's (formerly Slimdevices) SqueezeBox media streamer family. The software version of the player ties seamlessly into the SqueezeBox universe and the SqueezeBox Server. The latter is responsible for managing your music library and streaming to your devices.  The wonderful part about SqueezePlay is not its tidy UI or abundant features but the fact that it can remote control other SqueezePlay'ers as well as any SqueezeBox you may have on your network.
If you don't already own a Squeezebox thingy, installing this piece of software makes it very difficult not to want a Duet or a Transporter too. Previously the server (once known as SqueezeCenter) was overly complicated to set up and operate. This is all history. The server UI is clean and to the point. If you want to tweak advanced settings, you can get to them through little inconspicuous dropdown boxes – and quite frankly; you shouldn't need to. There are some pretty nifty things hidden in the advanced settings, though. Among other things, you can make the server transcode certain file formats to save bandwidth or improve compatibility.
Sonos could learn a bit from Logitech here. Sonos have a desktop controller that runs on Windows and OS X. Logitech's adds Linux and Solaris to the mix. The Sonos controller is exactly that; a controller. It doesn't play music by itself – it just controls your hardware. The reason is fairly straight forward. Sonos don't want computer savvy would-be customers create their own media players from scrapped PCs undermining their business model. Quite an understandable position, inarguably. Logitech's approach, however, is equally understandable. They let you build your own stuff and as you do that you are left to wonder: Can I do this cheaper and more energy efficient? Yep! I can buy one already finished. I can get a kitchen radio, a kid's room boom box and a Transporter for my Electrocompaniet in the living room. And they communicate. Not only among themselves but with my DIY media player. How cool is that? This is why I am prone to going the Logitech way instead of the Sonos ditto or indeed any third way. It is extremely modular. I can live with the fact that they are hoodwinking me into buying more stuff. I can live with that – 'sure. One selling point that gives Sonos an edge over the SqueezeBox family, is their analog input stream. Logitech need to do that. They do. They do.
4 out of 5 for extremely well done inter-communication and cleverly hidden subliminal messages saying: *buy* *buy* *buy*.


Logitech