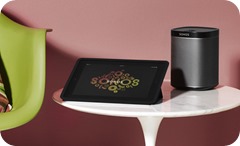 Not entirely unanticipated, Sonos released a cool little addition to their Play family of products. When the Play:1 turned up in the FCC last month, speculations as to what exactly it would be started to spread. Ending at a family lunch when someone leisurely suggested surround sound satellites. Bingo.
Considering that the Play:3 and Play:5 don't exactly make you go frolicking with audiophiliacity, this even smaller form factor is certainly not intended for the discerning listener. It is, however, a neat little cousin that will play nicely with most living rooms in exactly the home theatre configuration mentioned.
With the Play:1 Sonos have introduced a new feature; an on-device skip/pause button. Via  software update this functionality will come to the rest of the Sonos family shortly.


Sonos