Touting their Music player as "the audiophile music-player" indicates the target audience for this media player – people who care about sound.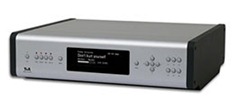 The design is anonymous and non-intrusive but not exactly pretty. The feature set, however, is in another order of things. A special DAC design based on Burr-Brown converters should improve s/n-ratio, reduce jitter and improve channel separation. Of course, a DAC without a digital source makes little sense – and sources there are aplenty. It has an FM radio and can be extended with an optional DAB radio and a CD player. It connects via ethernet [cabled or wireless] to streaming audio sources, networked files and files on a USB device or on a CD-ROM.

Supported file formats include Flac and Ogg-Vorbis in addition to the mandatory MP3 and Windows Media Player formats. Flac uses lossless compression that does not degrade sound quality and Ogg-Vorbis is an alternative to MP3. Of course, bitrate still has a saying but that goes for all formats.
A very interesting piece of machinery, albeit in a rather high price class. Considering the components used, this is hardly surprising.


T+A Elektroakustik