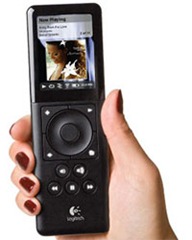 This is a clever device, in that it detaches navigation from the device completely and uses only the remote. The remote control has a small color LCD display which shows everything from playlists to album cover artwork. More Squeezeboxes can be linked together between rooms and either play different tracks or in-sync.
Just like with the Transporter, Logitech-owned Slim Devices once more shows true excellence in spec writing. One thing, however, they managed to keep somewhat hidden, is the fact that the Duet [unlike the Transporter] only supports streaming from their own SqueezeCenter server software. You cannot, in other words, stream from just any media enabled NAS disk or directly from a file server.
Like its bigger brother it supports Flac and Ogg-Vorbis. Indeed a neat device, even considering its obvious short coming.

Squeezebox Duet