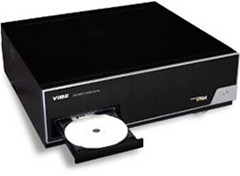 This is an awsome implementation of a dead simple concept. The Vibe Audio System consists of a media server with
ripping
capabilities. Depending on model, the server can handle 3 or 6 concurrent streams and thus serve 3 or 6 independent clients. The clever bit is the peripherals that all connect over ethernet. That includes an iPod dock, an AM/FM radio tuner, an analogue source decoder [complete with IR relaying] and a amplifier with a 7" touchscreen panel. Add to that software that installs on PCs in the network, letting you manage playlists and content, and you have a fairly impressive system.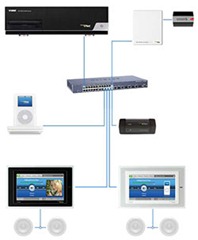 There is nothing fancy about the specs; suffice to say that streams are uncompressed PCM and the only supported file format is WAV. But it is not specs that should propel this device into legend – it is sheer interconnectivity elegance. It even rack mounts if you so choose.
As for the amplifiers they appear a bit crammed in their wall flush mounts; but man, do I love the appearance.
What I miss most in the specs is not surprisingly Flac support.  It could have helped save a bit of disk space but at least it uses PCM over MP3.


Colorado vNet