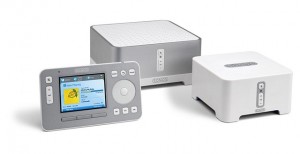 The Sonos Digital Music System is more than just a streamer. It consists of a server connected via twisted pair to your network and a controller with a color display. The server relays music to other Sonos devices via their own proprietary wireless network optimized for audio. All Sonos devices can play either their own playlists or play in sync. Everything controlled from the neat little handheld remote.
If you have more than one device only one of them needs to be physically connected to the network. The others receive their data wirelessly from there. There are three different types of devices to choose from: The ZoneBridge that does nothing except bridge the physical and wireless network – an access point, if you will, and two ZonePlayers that have actual playing capabilities. One of these ZonePlayers comes with a built in amplifier – the other without. In my book it is the latter that is most interesting. You simply connect it to your existing system – maybe even with a Benchmark Dac1 for conversion.
The entire system is controlled from up to 32 controllers or from a PC using some cool looking software – very nicely laid out.

Sonos