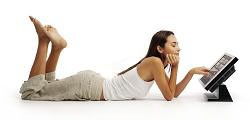 The Sooloos system consists of three different components. The Store which is the actual disk, the Source which streams the music to up to 32 zones and the Control which is a 17" touch screen with a built in CD drive ["Music isn't all zones, terabytes, and signal-to-noise ratios", they say]. Additional controls in the form of a 7" remote or a 7" satellite are available.
The Sooloos is the second system I have come across that uses mirroring on its datastore. Considering that hopefully more and more music will be downloadable in lossless audio formats the backup implications become more challenging; in case of a disk crash, how do you get your music back? A CD is straight forward. Buy it again and rip it once more. With music from, let's say the B&W Music Club, you are in a jam. You cannot simply redownload music from previous months. A backup is actually a very good thing to consider in these days of digital distribution.
An interesting and rather important point with the Sooloos system is that CDs are ripped as one large file rather than individual tracks. This ensures that when songs or, perhaps more importantly, musical movements are played in order, they are played with exactly the gaps they were supposed to. If you play individual tracks they are seeked at runtime, so the obvious shortcoming of this method has been taken care of.


Sooloos