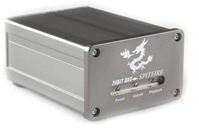 The Firestone Audio line of products is a refreshing attack on the design style of Hi-Fi equipment – not unlike the world of downhill mountain biking [the world is split into four distinct elements: peat, dirt, sight and sound]. Within the scope of this blog, two Firestone Audio products are particularly interesting: The Firestone Audio Fubar II USB DAC and the Firestone Audio Spitfire DAC. The former comes in a choice of bright red or grey and the latter just in grey.

The Fubar II is particularly useful as an external sound card for a PC, sporting a direct USB input as well as Toslink and coaxial inputs, all for a 16bit/48KHz conversion. Big brother Spitfire does not have a USB port but does offer a highly relieving bandaid in the form of a maximum resolution of 24bit/96KHz sampling rate. That makes the Spitfire a brilliant part of a chain starting with 2L's hiRes Flac downloads.
Incidentally, there is also a Fubar III which has a built-in headphone amplifier.


Headaudio