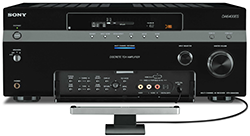 Sony have announced a new line of home theatre receivers creaming the competition with a top model 7.1 receiver showing some rather unusual features.
The STR-6400ES is not just network enabled. It streams music from your network like most modern systems. IT relays internet radio through a SHOUTcast service along with a number of the discrete inputs on the system, such as CD, turntable and radio. It even sends video to a second zone with its own set of OSD menus for controlling the signal.
With a backplane measured in square meters and some rather impressive specs, this is not at all an uninteresting piece of equipment for those about to bedazzle their TV apparatus (apparatii?).


Sony