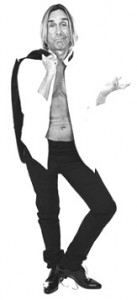 This has absolutely nothing to do with streaming music. Not in the least. I have to mention this new album from Iggy Pop, though.
On 25th of May Iggy released his newest album. Our own super punk rocker proclaimed it to be a reference to Michel Houellebecq's neo classic novel La Possibilité d'une île. Exactly how this reference would manifest itself was unclear, and indeed still is – even when you hear the master say "if there is a god, then why are his followers thus". One thing is certain, though. This is the most wonderful piece of music ever to come of the master's hands. Simply wonderful.
There are French chansons crooned in the most wonderful kitchy manner. I doubt even Maurice Chevalier could have out-smoothed Iggy there doing his French version of Autumn Leaves. The omnipresent Louisville jazz notes are particularly notable on the track King Of The Dogs, also released on YouTube as a three way interactive video. A brilliant music video, by the way, even if the interactivity is a bit of a fad. A tune reminiscent of Louis Armstrong's King Of The Zulus. The dog's bollocks, if you will, and pardon the pun.
Back to Préliminaires, what stands out is an uncanny atmosphere, lavishly spread out across all tracks, making the album a wholesome experience. The punk has finally grown up… at least until his next concert.
Right about now Iggy kicks off a tour with his new band, doing a live radio show from Paris which will include such wonderful classics as Cab Calloway's swinging Minnie The Moocher and Screamin' Jay Hawkins' I Put A Spell You. Quite a novel repertoire in all its altmodischness.


Iggy Pop