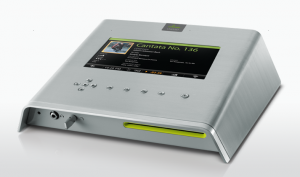 Olive has been on the media streamer market for the better part of the market's existence, yet hasn't made much noise. Their latest initiative could be here to change that: The world's first HD Audiophile Server. That is what they call it and looking at the specs, it's definitely the world's first something, even if others have touched on this before. The Linn DS is definitely up there (with a slightly more rabid price tag) and so is the NaimUniti Serve. The latter being a really attractive setup in its family configuration of server, players and mini players.
The device itself is cool if not exactly novel. The design is like other Olives, slightly unusual and definitely not very shelf-friendly.  The slanted cabinet has a touch screen on top and a handful of heavy duty connectors on the back. The front has a slot for ripping CDs. To get you going, the O6HD comes pre-installed with 12 HD tracks from Chesky records. Hand-built in America and all, it will look good on a serving table or something.
The power supply is split into two, to feed analog and digital circuits with each their own chill filtered juice. The DACs are 24-bit Burr-Brown PCM1792 supporting high resolution conversion of 24-bit/192KHz. It comes with 2TB of storage, letting you rip quite a bit of CDs, at least in 16-bit resolution. At full resolution it is not one byte too much. Unfortunately the CD transport is just that. A CD drive. It doesn't support DVD or SACD so the only option for actually getting any HD content is to rip it elsewhere or download HD tracks.
A rather cool feature is genre specific tags. Only information pertaining to the specific type of music is shown in the genre navigation. That is really good news for classical music connoisseurs. Add to that a bit of color coding and a bloody nice glass touch screen, and you have a pretty nifty dashboard. The ever present iPhone / iPod Touch remote isn't missing either.