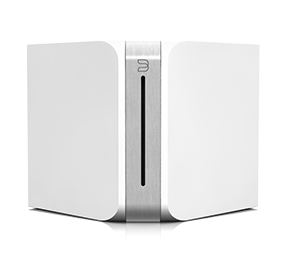 Canadian newcomers (and to some extent, former NAD dudes) Bluesound are going abroad with their jazzy looking 24-bit audio streaming system. A few weeks ago they appeared in Hifiklubben in Sweden and now they are available in Denmark as well. The system includes an optional server, ever so aptly named Vault, which can rip CDs in numerous formats, store them and stream them to the Bluesound players as well as act as a player itself. The satellite players come in three flavors: Node, Powernode and Pulse. The Node is a streaming client with analogue and digital outputs, natively supporting up to 192KHz sampling rates. The Powernode is akin to the Node adding a 90W class D amplifier to free it from a hifi system. The Pulse is a completely self contained system with 80W amp and speakers. In other words, a system not unlike the Sonos family; except in 24-bit resolution.
Control is done from a desktop computer or from the now ubiquitous smartphone or tablet. Presently only iOS and Android is supported.
Unlike Sonos, the Bluesound devices can access files from USB devices. It is unclear if each device can stream these auxiliary inputs autonomously, though.


Bluesound